WEBINAR INVITE: AI and Web3: A Perfect Match?
on 25 April at 9 am ET
These days most conversations are centered around Artificial Intelligence and its potential to transform how we interact with data and do business online.
The convergence of AI and blockchain technology is opening up new possibilities. Experts predict AI will play a fundamental role in the evolution of AI-based Web3 technologies.
Let us listen to the experts as they debate the possibilities of AI and Web3 converging to create a better life for all of us.
Panelists
Dr. Christina Yan Zhang
Joti Balani
Lena Grundhoefer z₃
Jacques Ludik
FRANKI TABOR, FRSA
Host
Sharad Agarwal
Register to attend at https://lnkd.in/ex_DW4JB
Organised by ONLY webinars
Dirk LohmannTracy HoTracey MancenidoApril RinneCarrington MalinCassie KozyrkovAishwarya SrinivasanGiannis RousopoulosLaila AL HadhramiPat Gelsinger Yann Le Paih Yanna Zhu Patrick WomackChad GpteerAlexandre RaffinIrina KaragyaurSean DavisGabriel FernándezAmal DokhanKeith JordanDirk KreuterKenza Ait Si AbbouAlvin FooProf.Christian FarioliNova LorraineAragorn MeulendijksAmy WebbAlexander OsterwalderJessica BergerThiago Nogueira (thianog.eth)Megan Skalbeck Sarah Ryan Vedang R. Vatsa FRSACaitlin Long
---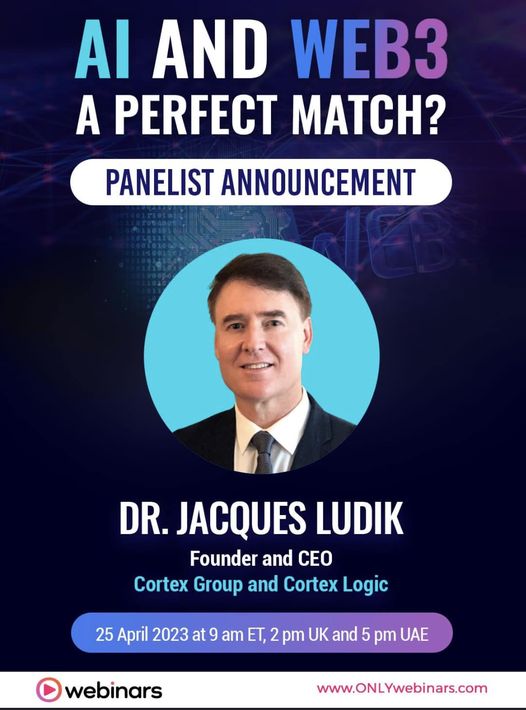 PANELIST ANNOUNCEMENT: AI and Web3: A Perfect Match?
on 25 April 2023 at 9 am ET
We are delighted that Jacques Ludik will be joining our panel for our forthcoming webinar.
Dr. Jacques Ludik is a smart technology entrepreneur, AI expert, founder of multiple AI companies, author, speaker, AI ecosystem builder, and award-winning AI Leader with a Ph.D. in Artificial Intelligence (Computer Science) and 25+ years' of experience in AI and Data Science and its applications.
He is currently the Founder and CEO of Cortex Group and Cortex Logic which is focused on providing scalable ultra-personalized AI-enabled wellness solutions, whereas Vive Teens is a spin-out company focused on providing an AI-driven personal mental wellness companion for teenagers and Journey Wellness is an AI-enable ultra-personalized health wellness platform solution; and the Founder and President of the Machine Intelligence Institute of Africa (MIIA) that focuses on transforming Africa through AI. MIIA aims to transform and help build an AI-powered Africa through a strong, innovative and collaborative Machine Intelligence, AI and Data Science community, consisting of individuals and key players in the African Artificial Intelligence Ecosystem.
Dr Ludik's recent book Democratizing Artificial Intelligence to Benefit Everyone is not only a holistic sense-making journey on democratizing AI to benefit everyone but also lays a foundation to synthesize a more balanced view and a better understanding of AI, its applications, its benefits, its risks, its limitations, its progress, and its likely future paths as it taps into his wealth of experience, knowledge, and sense-making ability as a smart technology entrepreneur and AI expert.
Apart from a tour de force of AI's applications across all the major industries and sectors, specific solutions are also shared to address AI's potential negative impacts, designing AI for social good and beneficial outcomes, building human-compatible AI that is ethical and trustworthy, addressing bias and discrimination, and the skills and competencies needed for a human-centric AI-driven workplace.
Registration Link https://lnkd.in/ex_DW4JB
Hosted by Sharad Agarwal
Organised by ONLY webinars by Cyber Gear
Dr. Christina Yan ZhangJoti BalaniLena Grundhoefer z₃⚜️ REG ATHWAL Building Global UHNW Legacies ⚜️Roberto CrociGlenn Muschert