HUMBLE MIND:
TOMORROW (8 November 2023) on Humble Mind we'll be joined by Dr Jacques Ludik on the topic of Exploring AI for good 🤖
https://www.linkedin.com/posts/humble-mind_ai-community-humblemind-activity-7127664709696126977-pYYY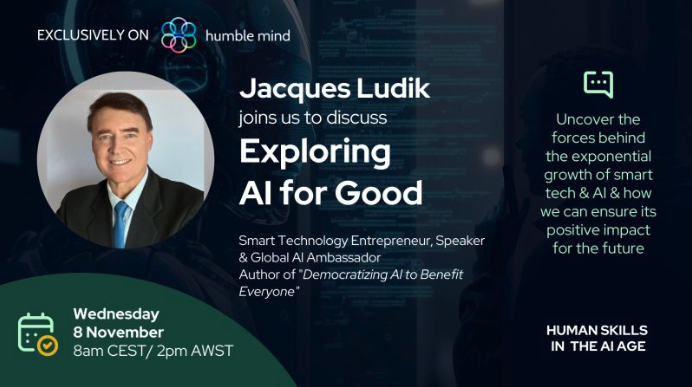 There's no doubt that #AI and smart technologies are amongst the main drivers of change across our social, political and economic spaces – many of which offer grim, unsettling portraits of the future of humanity.
But what if we took a different approach to these questions, and explored how we could leverage these exponential technologies for the better?
That's tomorrow's focus, and we're very excited to lead a zesty, food-for-thought conversation about it!
We'll be live from 8am CEST. Check out what we're doing here 👉 https://lnkd.in/dh64TthP
Curious minds only!
#community #humblemind #artificialintelligence #smarttechnology
https://www.linkedin.com/feed/update/urn:li:activity:7088031151822372864
Artificial intelligence (AI) and Web3 are two of the most transformative technologies of our time. AI has already become a central building block of the world's software, with PwC estimating that by 2030, AI will contribute a staggering $15.7 trillion to the global economy, resulting in a 14% increase in global GDP. As we transition to Web3, the decentralized web, AI will play an increasingly important role in shaping the landscape of our digital world.
https://www.linkedin.com/pulse/ai-web3-next-generation-internet-decentralized-world-jacques-ludik
"Democratizing Artificial Intelligence to Benefit Everyone: Shaping a Better Future in the Smart Technology Era" jacquesludik.com
Creating Transformative Solutions for A Better Future
Pushing AI Innovation to Develop State-of-the-art Personalized AI and Intelligent Agents on Trustworthy AI Guardrails for a Decentralized Sustainable World
https://drive.google.com/file/d/1rtLKGY0fofckmb-QtPZe6YiiM0m9T9hS/view
MTP for Humanity and AI-driven Super platform to support this:
https://drive.google.com/file/d/1oWA4gN-BUIgsfyfs5JsrW-UL7X2NlZ6w/view?usp=sharing
https://www.linkedin.com/pulse/beneficial-outcomes-humanity-smart-technology-era-jacques-ludik/
https://www.linkedin.com/pulse/sapiens-decentralized-human-centric-user-controlled-ai-driven-ludik/
Democratizing Artificial Intelligence to Benefit Everyone: Shaping a Better Future in the Smart Technology Era (jacquesludik.com)
Democratizing AI Newsletter: https://lnkd.in/eK8AxHG2
The Jacques Ludik Podcast: https://www.youtube.com/c/JacquesLudik