https://www.linkedin.com/pulse/igniting-african-ai-ecosystem-jacques-ludik/

Amidst the Artificial Intelligence (AI) avalanche in our midst, let us collaborate to ignite the African AI Ecosystem to help shape a better future for everyone in the Smart Technology Era!
The AI Avalanche
With all the excitement, hype and debates on Artificial Intelligence in 2023, there is a lot of sense-making going on in a world where we are currently not only flooded with state-of-the-art smart tech software, hardware, platforms, ecosystems, APIs, etc., but lots of opinions from a range of thought leaders, tech experts, business people, and others in this regard. See for example the recent announcements from OpenAI (in addition to ChatGPT enhanced by the GPT4 large language model as well as many third party plugins, also introducing their text-to-3D model called SHAP-E); Warren Buffet (voicing both concern and amazement over AI); Microsoft and AMD (joining forces to develop an AI chip in a project codenamed "Athena" to compete against Nvidia); Palantir (anticipating profitable 2023 fuelled by strong interest in its new AI platform); Tesla (Elon Musk teasing a one-month free trial of Tesla's Full Self-Driving (FSD) for all cars in North America once the system is "super smooth"); Meta (introducing their open-sourcing multisensory model ImageBind, a new AI research model that understands and combines text, audio, visual, movement, thermal, and depth data); Humane (introducing a new AI-wearable which it hopes to make smartphones obsolete); IBM (launching an AI platform Watsonx, a new AI platform designed to assist businesses in creating and utilizing AI models); Wendy's (teaming up with Google to develop an AI chatbot that takes your drive-thru orders); Google (showcasing AI-centered innovations across Google Workspace, Maps, Photos, Search as well introducing their new PaLM2 large language model, upgrades to Bard (their "ChatGPT" equivalent), AI coding Bot Studio Bot, MusicLM, and Med-PaLM); HuggingFace (releasing Transformers Agent, a coding language model that can generate other HuggingFace models on-the-fly for multimodal tasks); Scale AI (recently unveiled two AI platforms tailored for governments and enterprises: Scale Donovan and Scale EGP); Synthesia (releasing HumanRF which captures human movement from multiple angles and allows playback from unseen perspectives); Anthropic (with their AI Assistant Claude now able to analyze and interpret not just a few pages but hundreds, which enables it to read an entire book in under a minute), and Stability AI (unveiled a powerful text-to-animation tool called Stable Animation SDK that can generate animations from text, images, or video combined with text). We'll also have an upcoming debate in June 2023 between Max Tegmark and Yann LeCun on whether AI research and development poses an existential threat, with Yann saying that what the debate is really about: "is human extinction through superhuman AI inevitable, or are the risks manageable".
Apart from my book "Democratizing Artificial Intelligence to benefit Everyone: Shaping a Better Future in the Smart Technology Era", I also recently wrote a few articles on The Power of Generative AI: Exploring its Impact, Applications, Limitations, and Future, Quantum Computing for Generative AI, Human Intelligence versus Machine Intelligence, and The AI Singularity: A Threat to Humanity or a Promise of a Better Future? as well as some upcoming ones on "AI and Web3". It was also great to recently participate in some insightful panel discussions on "Redefining Business Performance with Generative AI" (Swiss Cognitive World-Leading AI Network), "AI and Web3: A Perfect Match?" (Only Webinars), and Human-centric AI and How Artificial Intelligence will change the Future. What we have also seen this year is an AI Everywhere trend with AI becoming more prevalent in organizations with the rise of no-code AI allowing for easier implementation and integration into various business processes, an Accelerated Digital Transformation driven by the ongoing effects of the pandemic and the rapid advancements in technology, and Hybrid Work as remote and hybrid work models become the norm.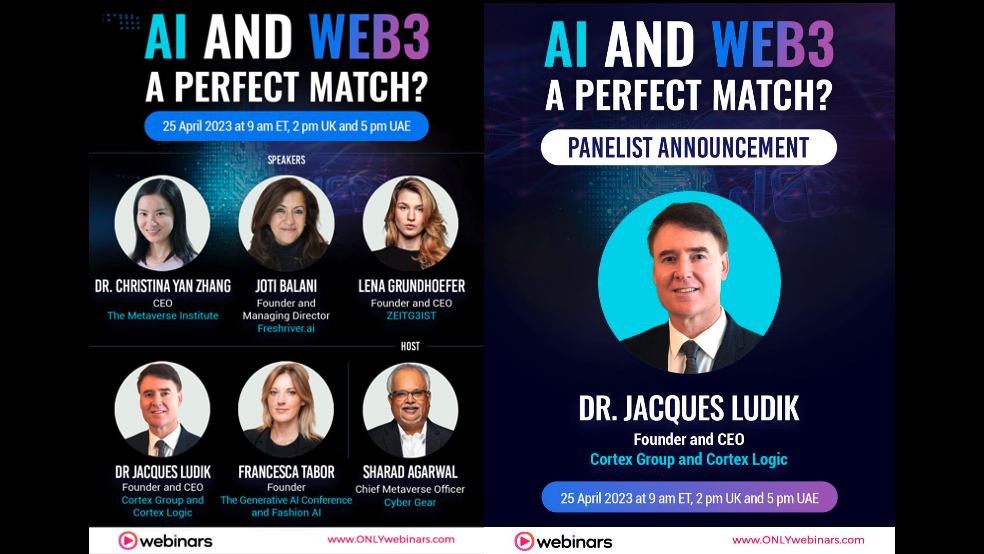 YouTube: AI and Web3 – A Perfect Match? (1.Introduction; 2. Thoughts on ChatGPT; 3. Thoughts on Call for Pause on AI; 4. Adapt with AI Advancement; 5. Closing Thoughts).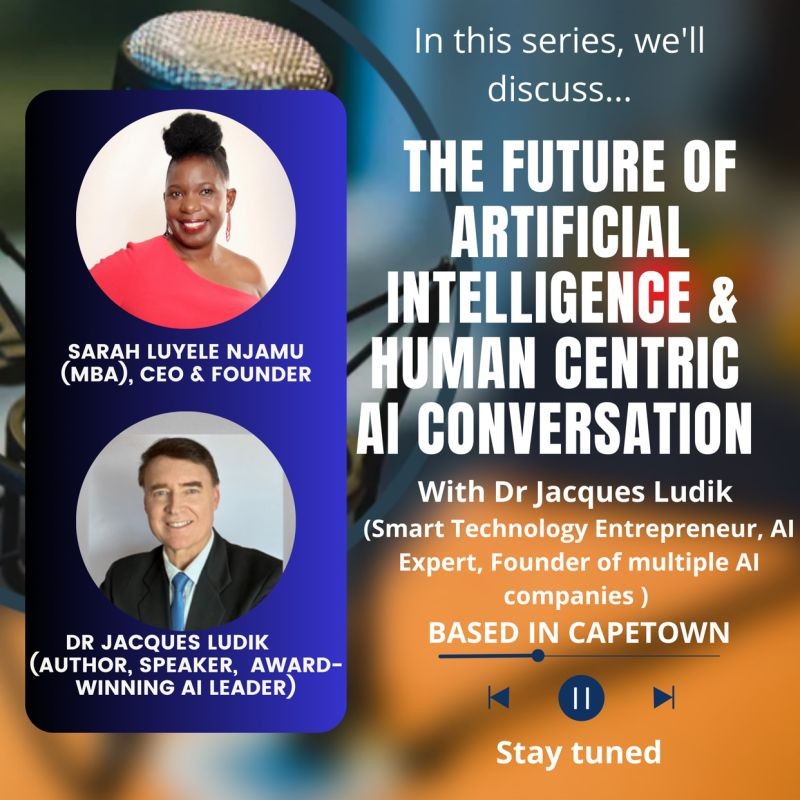 YouTube: Human-centric AI and How Artificial Intelligence will change the Future
The Africa AI Ecosystem on the Move
All of this is also very relevant here in Africa as also witnessed at a range AI related conferences across the continent this year. One recent one was at the AI Leaders' Summit 2023 in Nairobi, Kenya (organized by the AICE Africa and Adanian Labs teams) where I participated as a keynote speaker on the topic of "AI in Finance and Fintech Space. New Trends in Banking, Insurance, and Fintech. What is the commercial Value to your Business and Why" as well as a session on AI in Healthcare, which were also very stimulating and thoughtful. As mentioned on LinkedIn, I've enjoyed my engagement with everyone I've met at the event and are looking forward to further collaboration – also via Cortex Logic and the Machine Intelligence Institute of Africa | MIIA. I've also been impressed with the hospitality, passion, character, talent, knowledge, and thoughtfulness of the Kenyan people and other fellow African colleagues. As mentioned to John Kamara and others, I'm proud of what has been achieved so far with Adanian Labs and AICE, given that its roots can be traced back to John's involvement with MIIA and the Cortex Group and the vision that we have for the AI ecosystem in Africa. Well done to everyone involved!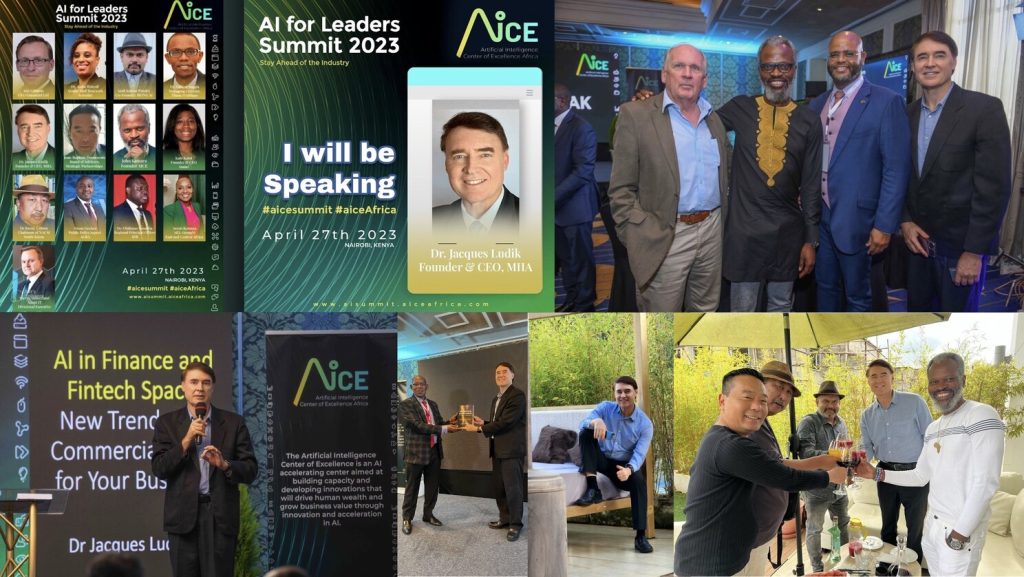 It was also wonderful participating in follow-up events discussing the Future of AI policy in Kenya as well as a panel discussion on Trustworthy AI and Research in AI. At the AI Roundtable event on the future of AI policy with thought leaders, government, and business representatives in Kenya it was clear that my fellow Africans gets exactly what's at stake and what needs to be done to take Kenya and Africa forward in a substantial way to help shape a better future in the Smart Technology Era. In Chapter 8 of my book "Democratizing Artificial Intelligence to benefit Everyone: Shaping a Better Future in the Smart Technology Era" (jacquesludik.com) as well as the "Democratizing AI" Newsletter article "AI's Impact on Society, Governments, and the Public Sector" I not only share AI's impact on society, AI-driven digital transformation of the public sector, but specifically governmental AI strategies, policies, and adoption around the globe.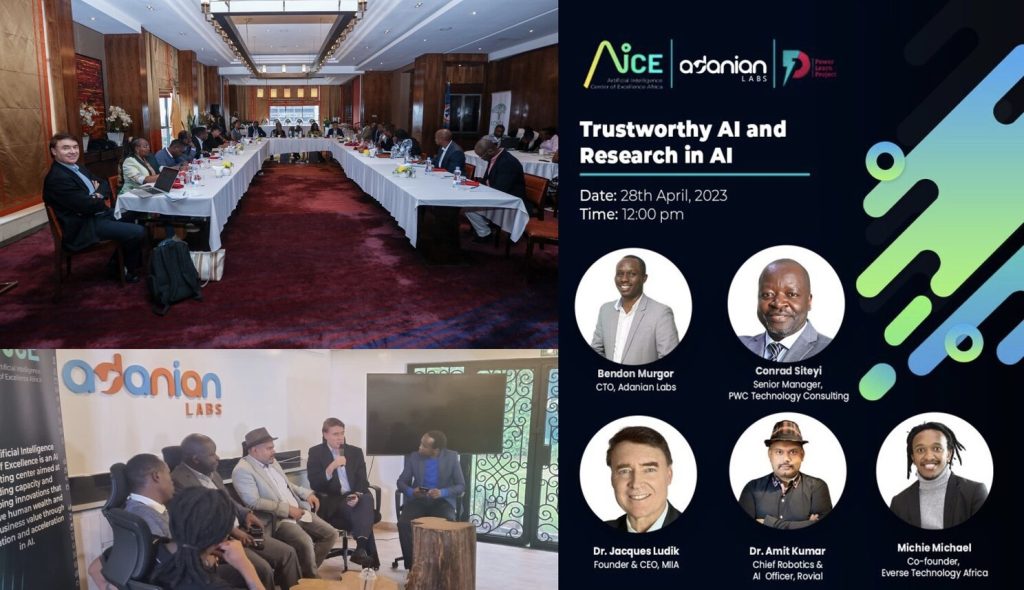 I also recently commented on Lynn Gitau's article on Unlocking Silicon Savannah: Assessing Africa's AI Readiness, where she discusses the state of emerging technology in Africa and specifically assesses Africa's AI readiness, which was inspired by her attending the AICE Africa AI Leaders' Summit in Nairobi. She expresses concern about Africa's readiness for the potential impact of AI, particularly in terms of job automation (citing a report from Goldman Sachs that predicts AI could replace 300 million jobs globally and one from BanklessTime.com that up to 800 million jobs can be replaced by 2030. While the World Economic Forum estimates AI will create 97 million new jobs by 2025, her main concern is the knowledge gap in Africa given an outdated education system and the lack of access to technology resources for African children. As also communicated in my book "Democratizing Artificial Intelligence to benefit Everyone: Shaping a Better Future in the Smart Technology Era" as well as the articles "Democratizing Human-centric AI in Africa" and "Democratizing AI to Help Shape a Beneficial Human-centric Future, I wholeheartedly agree with her that the focus should be on providing every child in Africa with the right education and technology resources to compete globally in an AI-driven future. This is a key part of helping to unlock Africa's potential to shape a better future in the Smart Technology Era.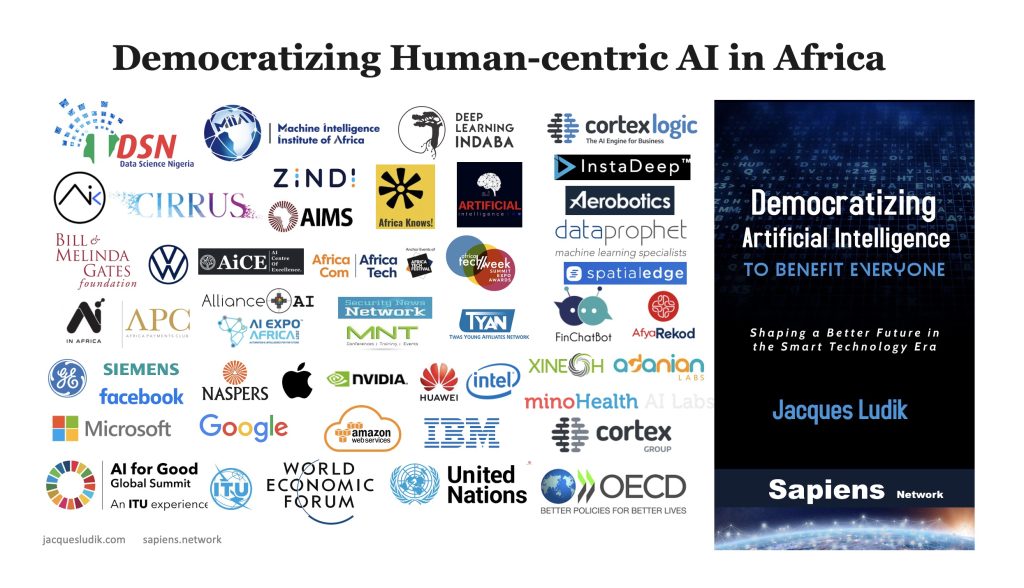 Collaborating across the Africa AI Ecosystem to Democratize Human-centric AI
Apart from the many AI companies active on the African continent, we have been fortunate to see examples such as South Africa's CSense Systems which was the first African AI company being sold to a multi-national company (namely, General Electric) in 2011 (I was a co-founder) as well as more recently another significant African AI company exit in Tunisia's InstaDeep which was sold to vaccine maker BioNTech. There are also other startups like South Africa's Aerobotics and DataProphet which have raised significant funding for AI applications in sectors such as agriculture and manufacturing. We have also seen the tremendous impact of tech giants such as Google, Microsoft, IBM, AWS, Meta, GE, and many others on the continent. There are also excellent work being done in Africa's AI Ecosystem by the Machine Intelligence Institute of Africa | MIIA, Zindi, DSNai – Data Science Nigeria, AI Africa Consortium, Cirrus AI, AICE Africa, Adanian Labs, Deep Learning Indaba, and others. It is an honour to be on the boards or advisory boards of many of these organizations. I'm for example also very proud of Data Science Nigeria (DSN) under Bayo Adekanmbi's leadership for the excellent example that they have been setting of the last number of years and their wonderful vision to reach and support the development of over 1 million AI talents in 10 years. MIIA, who has supported DSN from the early days since its inception, aims to transform and help build an AI-powered Africa through a strong, innovative and collaborative Machine Intelligence, AI and Data Science community, consisting of individuals and key players in the African AI Ecosystem. MIIA is also collaborating with Zindi which is a professional network for data science and platform for data science competitions. The Zindi community has now grown to over 60,000, and they are on a mission to make data science and AI accessible to everyone.
We have an opportunity to collaborate even better – on a business, research and social good level. We have an opportunity to create AI companies that unlock business and societal value at scale. We have an opportunity to do state-of-the AI research to help solve intelligence, establish a world-class talent pool, and create sustainable AI for social good solutions.
My call to action is: Let's collaborate on all these fronts and work together to help shape that better future in the Smart Technology Era!
jacquesludik.com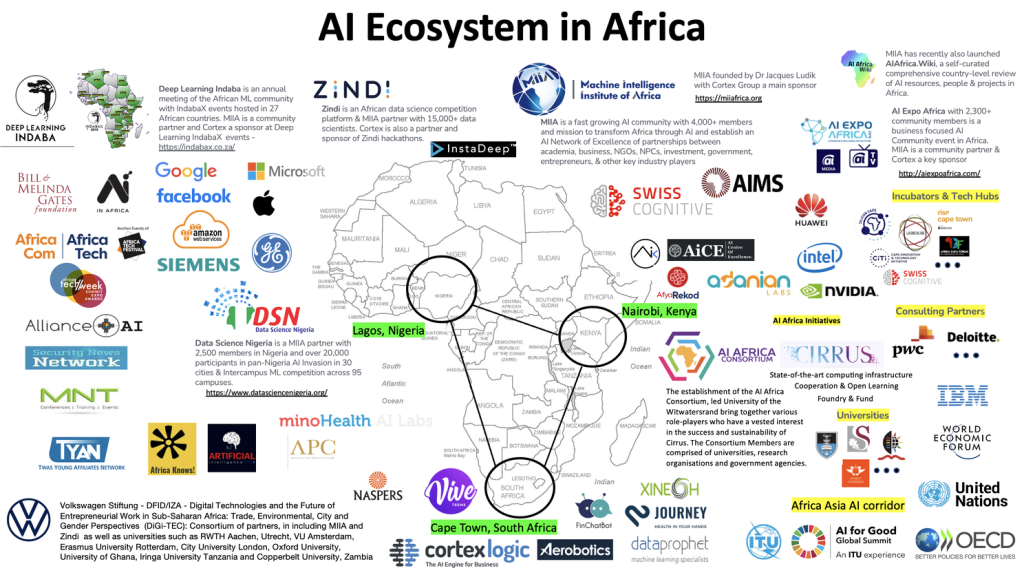 Upcoming Events
Looking forward to speaking at Digitizing Africa 2023! The event takes place on August 23-24, 2023 in Johannesburg, South Africa. Register now at www.africadigitrans.com to secure your spot!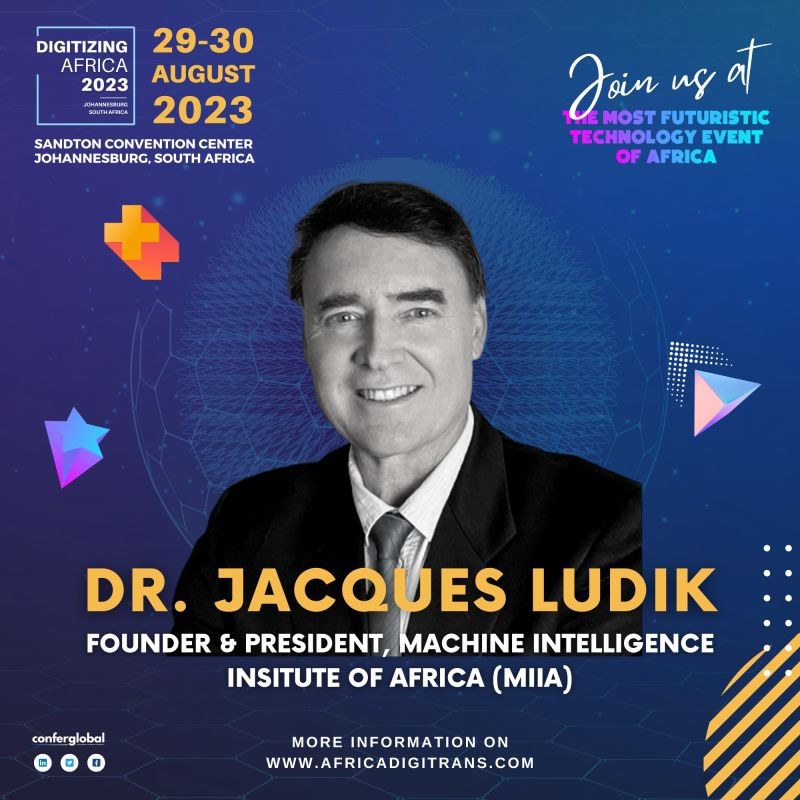 ---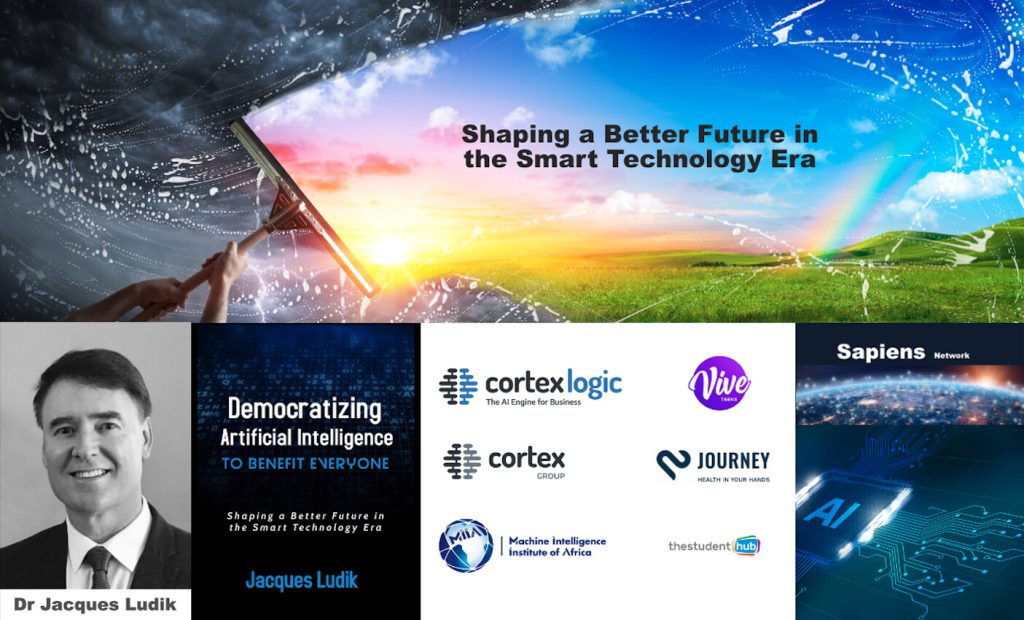 Democratizing Artificial Intelligence to Benefit Everyone: Shaping a Better Future in the Smart Technology Era
Democratizing Artificial Intelligence to Benefit Everyone: Shaping a Better Future in the Smart Technology Era" takes us on a holistic sense-making journey and lays a foundation to synthesize a more balanced view and better understanding of AI, its applications, its benefits, its risks, its limitations, its progress, and its likely future paths. Specific solutions are also shared to address AI's potential negative impacts, designing AI for social good and beneficial outcomes, building human-compatible AI that is ethical and trustworthy, addressing bias and discrimination, and the skills and competencies needed for a human-centric AI-driven workplace. The book aims to help with the drive towards democratizing AI and its applications to maximize the beneficial outcomes for humanity and specifically arguing for a more decentralized beneficial human-centric future where AI and its benefits can be democratized to as many people as possible. It also examines what it means to be human and living meaningful in the 21st century and share some ideas for reshaping our civilization for beneficial outcomes as well as various potential outcomes for the future of civilization.
See also the Democratizing AI Newsletter:
https://www.linkedin.com/newsletters/democratizing-ai-6906521507938258944/